working for us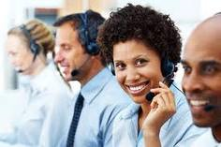 DataStat is a nationally-recognized social research organization specializing in survey data collection services and advanced reporting that supports health services research, social science research, and public policy research. Local to Ann Arbor for 35 years, we pride ourselves on having an inclusive, open, collaborative, and flexible work environment. We are experts in providing new employees with thorough on-the-job training and growth opportunities for longer term staff; realizing a career with great autonomy and responsibility.

Eligible applicants must be able to work evenings and weekends, sit in-front of computer screen for long periods of time, possess basic keyboarding skills, be able to enter data via the alphabetic keys and 10 keypad and read text aloud in a clear and professional manner.

If you are an individual with a disability and would like to request a reasonable accommodation as part of the employment selection process please contact us at hiring@datastat.com or (734) 545‑7189. Please leave the words "Accommodation Request" in the email subject line or body of the voicemail.

Equal Opportunity Employer for Veterans/Disabled
Current Job Openings:
(Click to view job description and how to apply)
DataStat is a survey research firm that conducts telephone interviews on a variety of interesting topics. As an interviewer you will enjoy a relaxed but professional environment with no dress code. Available shifts are during the evening and weekend hours, which is great for students or as a second job. No experience is required but basic computer skills and being able to read aloud are essential to the position. It is vital that all interviewers have a pleasant telephone voice. DataStat offers extensive training that will prepare applicants to be professional telephone interviewers.
To apply online, please click here.
Social Research Analyst
Job Description:
We are seeking a full-time Entry Level Social Research Analyst to learn proprietary data collection and analysis software / systems. The Social Research Analyst will be responsible for working with their project team to implement all phases of survey research projects. Tasks will include sample processing and management, programming questionnaires, development of materials, quality assurance checks, data analysis and reporting.
Minimum Qualifications:
BA or BS in a social science, math or other liberal arts degree program. Candidate is knowledgeable about social science research; demonstrates strong organizational, communication and computer skills; values attention to detail; is process-oriented.
Preferred Qualifications:
1 - 2 years full-time work experience; experience with statistical analysis using SPSS/SAS/Stata; experience with data collection and management.
To apply, please fill out
these forms
. Then, send an email with a cover letter, resume and salary history attached to the following email address:
DA0423@datastat.com
Location: Ann Arbor.
Compensation: Competitive benefits package. Salary commensurate with experience.
Local Residents and Principals only. Recruiters - please do not contact this job poster.
Please, no phone calls about this job.
Please do not contact job poster about other services, products or commercial interests.