Superior Mail Automation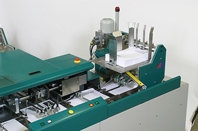 Laser printing systems capable of 400 pages per minute of fully customized printing.
All materials produced in-house in commercial printing plant.
Fully automated in-house production systems: from blank paper to 30,000 complete mailing packets per day.
Automated insertion equipment for final mail packet assembly with 100% video scan matching for complete accuracy, based on custom software and hardware, designed and built in-house.
Go Back [-]